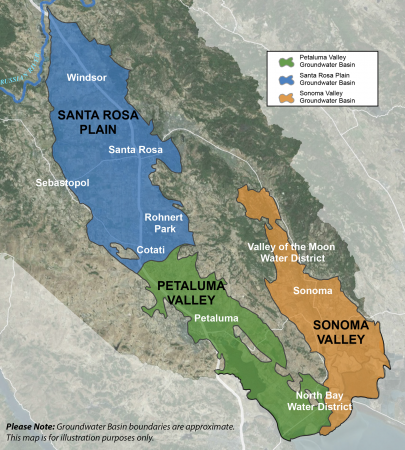 Recharging Groundwater Basins: Facts, Myths, Projects and Possibilities
Join local groundwater agencies to learn more about how farmers in other communities and locally are contributing to groundwater recharge. This public workshop will focus on how groundwater can be recharged to help better manage and sustain local aquifers.
Presentations will cover:
How groundwater recharge works
California's Flood-MAR (Managed Aquifer Recharge) project
Local efforts: What farmers are doing in Sonoma County to enhance recharge
Q & A and table top discussions
Light refreshments will be served!
Please RSVP by December 6. Click here to RSVP, or contact
Andrea.Rodriguez@SCWA.CA.Gov or call (707) 521-1837 for additional information.
Visit us online Groundwater Sustainability Agencies: Santa Rosa, Petaluma Valley, and Sonoma County.