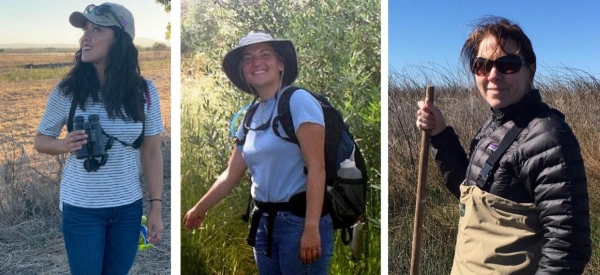 Lecture Series: Integrating the CA Biodiversity Initiative into California Department of Fish and Wildlife's Efforts
Launched in 2018, the California Biodiversity Initiative is a statewide effort to secure the future of California's biodiversity. Such a large undertaking entails improving our understanding of California's biodiversity, protecting and recovering California's native species and ecosystems, and engaging participation by many partners. This talk will provide an overview of the California Biodiversity Initiative and the history of its development and will share initial efforts to implement the Initiative that are underway at California Department of Fish and Wildlife.
Lecturers are: Kim Tenggardjaja, Biodiversity Coordinator in the Science Institute and lead coordinating staff for the California Landscape Conservation Partnership; Melanie Gogol-Prokurat, Spatial Ecologist in the Biogeographic Data Branch; and Martha Volkoff, Environmental Program Manager for the Habitat Conservation Planning Branch's Invasive Species Program.
Please Register Now to secure your spot, or receive an email with the link to the webinar.
See the original event.