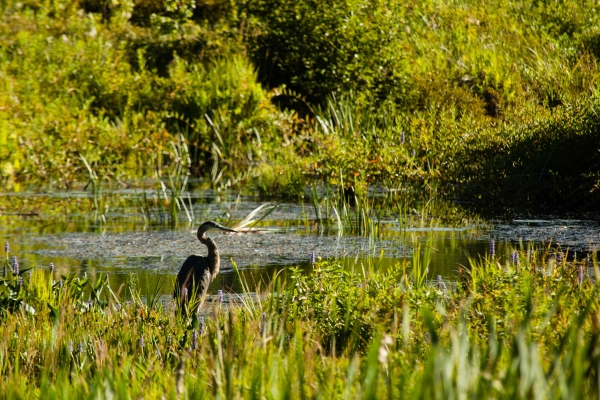 Webinar: Indigenous Perspectives on Wetland Science and Management
Todd Mitchell & Nicole Casper, Swinomish Tribe
Using Traditional Ecological Knowledge to Protect Wetlands: The Swinomish Tribe's Wetlands Cultural Assessment Project
Traditional wetland physical assessments do not adequately identify tribal cultural values of wetlands and thus are not adequately protecting cultural uses. The Swinomish Wetlands Cultural Assessment Project has developed a cultural module that can be incorporated into wetland assessments to better inform wetland protections. Local native knowledge was gathered about the traditional uses of 99 plant species. A cultural module was developed based on the presence of plants in several use categories including: construction, ceremonial, subsistence, medicinal, common use, plant rarity, and place of value for each wetland. The combined score of the cultural and physical modules provides an overall wetland score that relates to proscribed buffer protection widths through the Tribe's wetland protection law. We hope this innovative method can serve as a model in combining traditional cultural values with scientific methods to help promote the breadth of knowledge our ancestors possessed into modern practical environmental protection.
Ryan Emanuel, North Carolina State University
Water in the Lumbee World: Challenges and opportunities to protecting a culturally significant river and its wetlands in an era of rapid environmental change
The Lumbee (or Lumber) River is a culturally important blackwater stream for the 60,000-member Lumbee Tribe of North Carolina. The river, its tributaries, and their adjacent swamps have protected and sustained Lumbee people and their ancestors for countless generations in the Coastal Plain of present-day North Carolina. Recent years have experienced renewal of cultural practices associated with water, the river, and wetlands among Lumbee people, but climate change and development pose threats to culturally-important wetlands and riverine ecosystems. I highlight some of these cultural practices and discuss recent research efforts to assess various threats. I also discuss key public policy tools available to Lumbee people and their tribal government for the protection of cultural landscapes while highlighting the challenges of leveraging policy as a non-federally recognized American Indian tribe. The discussion includes recommendations for wetland managers and decision-makers who interact with American Indian tribes and Indigenous groups.