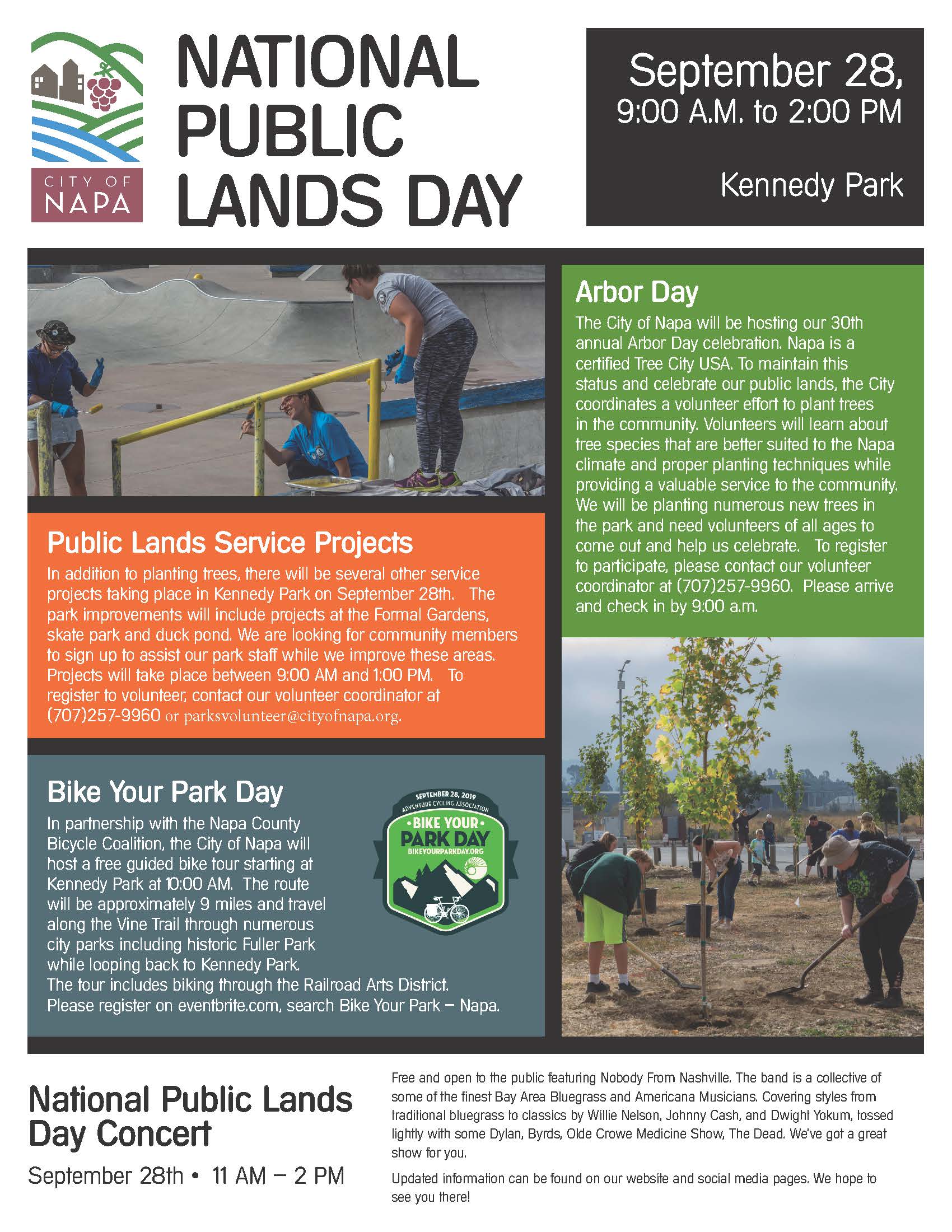 National Public Lands Day in Kennedy Park
Come make a lasting impact to our community's park system! This year's National Public Lands Day will be held on September 28th combining three fun events in one day!
Arbor Day
The City of Napa will be hosting our 30th annual Arbor Day celebration. The City of Napa is a certified Tree City USA. To maintain this status and celebrate our public lands, the City coordinates a volunteer effort to plant trees in the community. Volunteers will learn about tree species that are better suited to the Napa climate and proper planting techniques while providing a valuable service to the community. We will be planting numerous new trees in the park and need volunteers of all ages to come out and help us celebrate. To register to participate, please contact our volunteer coordinator at (707)257-9960 or parksvolunteer@cityofnapa.org. Please arrive and check in by 9:00 a.m.
Bike Your Park
In partnership with the Adventure Cycling Association and the Napa County Bicycle Coalition, the City of Napa will host a free guided bike tour starting at Kennedy Park at 10:00 AM. The route will be approximately 9 miles and travel along the Vine Trail through numerous city parks including historic Fuller Park while looping back to Kennedy Park. The tour includes biking through the RAD Napa. Please register in advance here: https://www.eventbrite.com/e/bike-your-park-napa-tickets-63141495914
Public Lands Service Projects
In addition to planting trees, there will be several other service projects taking place in Kennedy Park on September 28th. The park improvements will include projects at the Formal Gardens, skate park and duck pond. We are looking for community members to sign up to assist our park staff while we improve these areas. Projects will take place between 9:00 AM and 1:00 PM. To register to volunteer, contact our volunteer coordinator at (707)257-9960.
National Public Lands Day Concert 11 AM – 2 PM
Free and open to the public featuring Nobody from Nashville. The band is a collective of some of the finest Bay Area Bluegrass and Americana Musicians. Covering styles from traditional bluegrass to classics by Willie Nelson, Johnny Cash, and Dwight Yokum, tossed lightly with some Dylan, Byrds, Olde Crowe Medicine Show, The Dead. We've got a great show for you.