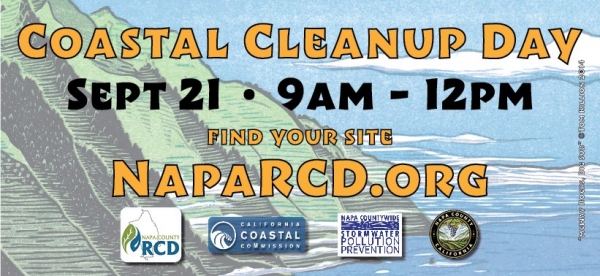 Napa County Coastal Cleanup Day
Clean your way to the coast and help keep Napa clean during the 35th annual California Coastal Cleanup Day! This event is part of International and California Coastal Clean-up Day, where thousands of volunteers in all 50 states and 100 countries take part in the world's largest waterway and beach cleanup of the year!
In Napa County last year, over 450 volunteers cleaned 2,783 pounds of trash and 1,700 pounds of recyclables from Napa's waterways!
How does it work? – Pick any site that you are interested in volunteering at, RSVP if you can, grab some supplies if you have them, and show up to cleanup! (RSVP not required)
The CA Coastal Commission has produced an interactive map of cleanup locations in Napa County, along with every corner of the state: www.coastalcleanupday.org
2019 Cleanup Sites:
Napa – Contact: Ashley Kvitek – Ashley@NapaRCD.org or 707-690-3117
Downtown Napa: corner of Main and Pearl Streets near Napa Creek
Oxbow Commons: at the park under the wine train bridge
South Wetlands: end of Jefferson Street
Kennedy Park: boat dock
Napa Valley Vine Trail: Hartle Ct. next to Napa County Animal Shelter
Salvador Creek/Vintage High School: quad, off Trower Rd
Riverside Drive: Next to 100 Riverside Drive near the boat launch (kayaks will be available for the first 10 volunteers)
American Canyon – Contact: Stacey Johnson – SJohnson@cityofamericancanyon.org or 707-647-5333
Community Park 2: 20 Benton Way
Lake Berryessa – Contact: Marianne.Butler@Solanorcd.org or 567-674-5611
Markley Cove: behind the store
Steele Canyon: by the boat launch
Pope Creek Bridge (Ground, Dive, Canoe, & Kayak): Park in the paved parking lot
Calistoga – Contact: Melissa Velasquez – MVelasquez@ci.calistoga.ca.us or 707-942-2828
Meet at Community Center: at 1307 Washington Street at 9:00 a.m
Oat Hill Mine Trailhead, Intersection of Lincoln Ave (Hwy 29) & Silverado Trail
Old Pacific Railroad Right-of-Way (Lincoln to Little League Field)
Napa River adjacent to Pioneer Park
Napa Valley Vine Trail (Washington Street – Lincoln to Dunaweal lane)
St. Helena – Contact: Michael Fontana- MFontana@cityofsthelena.org or 707.967.2794
Jacob Meily Park
Important Info!
Gear: Garbage buckets, bags, latex gloves, and light refreshments will be provided. Bring your own bucket or bin to help us reduce single use bag usage/waste. Wear sunscreen and work clothes.
Water: Bring your own re-usable containers
Waiver: All participants must sign a waiver. Children under 18 are required to have a liability waiver form signed by a parent or legal guardian before they can participate. Adult and youth waivers will be available at cleanup sites. However, if your child is not going to be accompanied by an adult please download the mandatory waiver here and have your child bring it with them the day of the cleanup.
Questions? Email Ashley@NapaRCD.org or call 707-690-3117