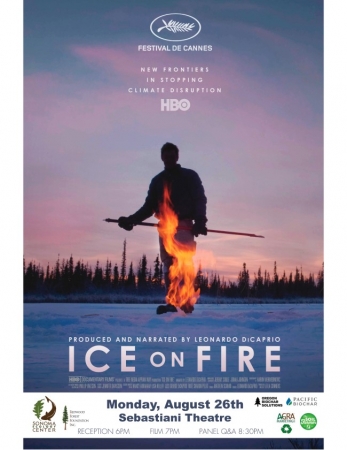 Sonoma Biochar Initiative presents Ice on Fire Documentary Screening
An HBO documentary on climate change, produced and narrated by Leonardo DiCaprio in partnership with Tree Media Group, has sparked interest and conversation since its debut at Cannes Film Festival earlier this year. Now the film - and the conversation - is coming to Sonoma as Sonoma Ecology Center and the Redwood Forest Foundation, Inc. (RFFI) proudly present "Ice on Fire" at the Sebastiani Theatre on Aug. 26.
The Monday evening screening will be followed by a panel discussion led by Raymond Baltar, Biochar Project Manager of Sonoma Biochar Initiative, a Sonoma Ecology Center program. Baltar appears in "Ice on Fire" to discuss the benefits of biochar, one of several practical solutions to the climate crisis presented in the film. He was interviewed for the film while working under contract with Redwood Forest Foundation Inc. (RFFI) at a biochar project near the town of Percy in Mendocino County. The screening is co-sponsored by RFFI with contributions from Pacific Biochar, Oregon Biochar Solutions, AgraMarketing, and other advocates for climate change solutions.
Experts on climate change and "drawdown" - efforts to remove carbon from Earth's atmosphere - including the United Nations Intergovernmental Panel on Climate Change (IPCC), view biochar as one of the many solutions we can use to reduce the amount of carbon we are putting in the atmosphere . A recent IPCC Special Report named production and use of biochar as one of the least expensive carbon drawdown strategies that can be employed immediately. Another drawdown strategy profiled in the film is through sustainable forest management and tree planting, using the great work of the Redwood Forest Foundation as an example.
"Ice on Fire" was accepted into the Cannes Film Festival in May, and premiered on HBO in June. Its arrival to the Sebastiani Theatre is its first Bay Area screening. This special event on Monday, Aug. 26 begins with wine donated and poured by Benziger Family Winery, plus light refreshments, in the Sebastiani Theatre foyer at 6 p.m. The film starts at 7 p.m., followed by a brief panel discussion moderated by Baltar and featuring "Ice on Fire" director Leila Conners, and RFFI Chief Forester and Usal Forest manager Linwood Gill, who also appears in the film.
The Sebastiani Theatre is located on Sonoma Plaza at 476 First Street East, Sonoma.
Tickets are available for $20 at www.brownpapertickets.com/event/4311308.
It is recommended that you reserve your tickets in advance. All proceeds from the event will help support Sonoma Biochar Initiative and RFFI. For more on the film go to www.hbo.com/documentaries/ice-on-fire. For more on Sonoma Biochar Initiative and RFFI go to sonomabiocharinitiative.org and www.rffi.org .
The Sonoma Biochar Initiative is a project of Sonoma Ecology Center (SEC) and is dedicated to the ethical and sustainable production and use of biochar, both locally and worldwide. SEC is a 501(c)3 nonprofit serving as Sonoma Valley's environmental steward for 30 years.