Groundwater Subareas: Napa Valley Floor – Calistoga and Saint Helena
The Calistoga and St. Helena Napa Valley Floor Subareas include the northern portion of the Napa Valley Subbasin. The geology of these subareas is distinguished by the alluvial sediments, such as clay, silt, and sand, deposited across the valley and ranging in thickness from a few tens of feet to hundreds of feet. Coarse-grained alluvial deposits, such as sands and gravels, form the primary aquifer units in the alluvium. The alluvial sediments lie atop various rock deposits, primarily volcanic formations, which contain lower aquifer units.
Click images to view larger
Groundwater levels have been generally stable over time in the Calistoga Subarea and northern St. Helena Subarea. Groundwater levels in the representative wells are frequently very shallow at less than 10 feet below the ground surface in the spring in the Calistoga Subarea and less than 20 feet in northern St. Helena Subarea.
Click image to view larger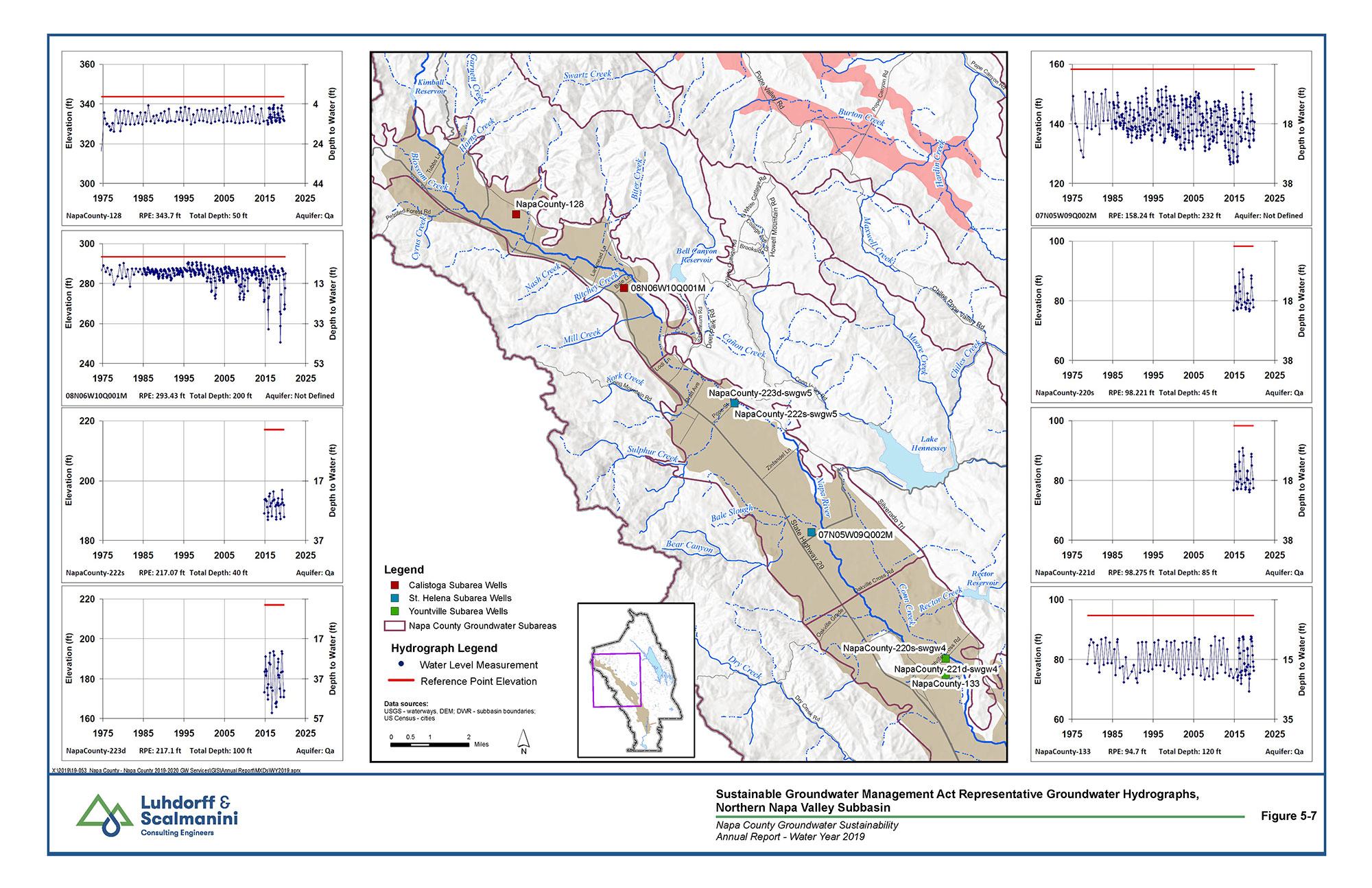 SGMA Representative Groundwater Hydrographs,
Northern Napa Valley Subbasin
Minor seasonal declines of about 10 feet occur between spring and fall in the Calistoga Subarea. Elsewhere in the St. Helena Subarea, groundwater levels exhibit greater seasonal declines of about 20 feet, likely due to more confined conditions in the alluvial aquifer system and the thinner nature of alluvial aquifer materials near the margins of the valley floor. However, in every year since 1970, groundwater levels typically returned to within 10 feet of the ground surface the following spring.
Groundwater quality in the Calistoga Subarea is generally good though variable, with somewhat limited data showing elevated concentrations of boron, arsenic, chloride, total dissolved solids (TDS), sulfate, and fluoride in some wells. Most of the groundwater with poorer quality exists in the northern part of the subarea and along the flanks of the valley.
Groundwater quality is generally good in the St. Helena Subarea, although samples from some wells have exceeded standards for constituents including various metals and minerals. No spatial pattern is evident to explain the existence of elevated values.
Groundwater Map - Calistoga and St. Helena Subarea
Using the map below, click "show legend" to see map data layers, click on specific areas to find more information and links to subarea groundwater monitoring results, levels and trends. Enter your address, city or zip above the legend to zoom to an area of interest.
To navigate to other Groundwater subarea pages, use the links below.