Monitoring & Data Collection
Did you ever stop to wonder how we get our information on the condition of our streams, lakes, estuaries, and coastal waters? On whether these waters are safe enough to swim in, fish from, or use for drinking or irrigation purposes? Monitoring provides this basic information.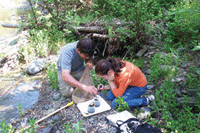 There are many ways to monitor water conditions. To monitor the constituents in water, sediments, and fish tissue -- such as levels of dissolved oxygen, suspended sediments, nutrients, metals, oils, and pesticides -- monitoring specialists perform chemical measurements. Physical measurements of general conditions such as temperature, flow, water color, and the condition of stream banks and lake shores are also important. Biological measurements of the abundance and variety of aquatic plant and animal life and the ability of test organisms to survive in sample water are also widely used to monitor water conditions. Monitoring can be conducted at regular sites on a continuous basis ("fixed station" monitoring); at selected sites on an as needed basis or to answer specific questions (intensive surveys); on a temporary or seasonal basis (for example, during the summer at bathing beaches); or on an emergency basis (such as after a spill). Increasingly, monitoring efforts are aimed at determining the condition of entire watersheds -- the area drained by rivers, lakes, and estuaries. This is because we have come to realize the impact of land-based activities on the waters that drain the land, and the interconnectedness of all types of waterbodies, including those beneath the ground. For more information on watershed-based activities, see the Office of Wetlands, Oceans and Watersheds homepage.
Why monitor?
Monitoring can be conducted for many purposes. Five major purposes are to:
characterize waters and identify changes or trends in water quality over time;
identify specific existing or emerging water quality problems;
gather information to design specific pollution prevention or remediation programs
determine whether program goals -- such as compliance with pollution regulations or implementation of effective pollution control actions -- are being met; and
respond to emergencies, such as spills and floods.
Some types of monitoring activities meet several of these purposes at once; others are specifically designed for one reason.
Who monitors?
The responsibility to monitor water quality rests with many different public agencies and private entities. State pollution control agencies and Indian tribes have key monitoring responsibilities and conduct vigorous monitoring programs. Many local governments, such as city and county environmental offices, also conduct water quality monitoring. The USEPA helps administer grants for water quality monitoring and provides technical guidance on how to monitor and how to report monitoring results. Some of USEPA's technical monitoring guidance documents are provided through their website.
Other Federal agencies are also involved in water quality monitoring. The U.S. Geological Survey (USGS) conducts extensive chemical monitoring through its National Stream Quality Accounting Network (NASQAN) at fixed locations on large rivers around the country. Its National Water Quality Assessment Program (NAWQA) uses a regional focus to study status and trends in water, sediment, and biota. The U.S. Fish and Wildlife Service, the National Oceanic and Atmospheric Administration, the U.S. Army Corps of Engineers, and the Tennessee Valley Authority are other examples of Federal agencies that conduct water quality monitoring to support their programs and activities. The states, territories, and tribes maintain monitoring programs to support several objectives, including assessing whether water is safe for drinking, swimming, and fishing. States also use monitoring data to
review and revise water quality standards,
identify impaired and threatened waters under Clean Water Act Section 303(d),
develop pollutant-specific total maximum daily loads or TMDLs (calculations of the maximum amount of a pollutant that a waterbody can receive and still meet water quality standards and an allocation of that amount to the pollutant's sources),
determine the effectiveness of control programs,
measure progress toward clean water, and
respond to citizen complaints or events such as spills and fish kills.
Private entities such as universities, watershed associations, environmental groups, and industries also conduct water quality monitoring. They may collect water quality data for their own purposes, or to share with government decision makers. Volunteer monitors -- private citizens who volunteer to regularly collect and analyze water samples, conduct visual assessments of physical conditions, and measure the biological health of waters -- are a rapidly growing contingent providing increasingly important watershed information.
What happens to monitoring data?
Data collected by state, local and federal agencies and private entities are needed to build the assessments we need to make better pollution control decisions. Without data, we simply cannot know where pollution problems exist, where we need to focus our pollution control energies, or where we've made progress.
Many agencies and organizations maintain computerized data systems to store and manage the monitoring data they or others collect. Perhaps the largest such ambient water quality data system is USEPA's STORET (for STOrage and RETrieval) system. Data collected by state, local and federal agencies and some private entities such as universities and volunteer monitors is entered into STORET. Raw data in STORET can be accessed, analyzed, and summarized by many users and for many purposes.
States, and increasingly, tribes, turn their raw data into information about whether their waters meet water quality standards. States report his information to USEPA every two years. USEPA, in turn, summarizes these state water quality assessment reports, required under Section 305(b) of the Clean Water Act of 1972, into a national Report to Congress called the National Water Inventory.
In addition, a report is available which describes environmental indicators that USEPA and its state, Federal, tribal and private partners will be using to measure progress toward national water quality objectives. Over time, the indicators described in Environmental Indicators of Water Quality in the United States will provide consistent information on water quality trends.
The Future of Water Quality Monitoring
This brief introduction has provided a glimpse into the complex world of water quality monitoring. Efforts are currently underway to improve how monitoring is conducted, how information is shared, and how decisions based on monitoring are made.
In 1991, the Intergovernmental Task Force on Monitoring Water Quality (ITFM) was chartered to study the nation's monitoring programs and recommend improvements in monitoring design and implementation. Over 80 federal, state, local, and private organizations composed the ITFM itself and an associated advisory committee. Jointly chaired by USEPA and USGS, the ITFM issued two annual reports and a final set of recommendations for a nationwide water monitoring strategy. Among its many recommendations are:
developing closer working relationships among organizations that monitor and use water information;
facilitating the design of monitoring programs that measure progress in meeting clearly stated goals;
identifying national indicators to answer key water quality questions;
developing comparable technical methods;
facilitating data automation, sharing, and accessibility;
improving quality assurance/quality control; and
improving assessment and reporting of water quality conditions.
For a list of external links to some of EPA's partners on the ITFM, visit National Water Quality Monitoring Council.
EPA and its partners are working to streamline the water quality monitoring, assessment and reporting process through development of a Consolidated Assessment and Listing Methodology. The CALM will include:
guidance on attainment/non-attainment of state water quality standards (covering listing/de-listing decisions under Section 303(d) of the Clean Water Act),
comprehensive state monitoring coverage,
presentation of data,
elements of an increasingly comprehensive state monitoring program,
causes and sources of impairment, and
additional sections on discrete types of pollutants such as pathogens, nutrients, sedimentation, and fish advisories.
The benefits of the CALM will be improved decision making on impaired waters, and clearer communication to the public on the condition of waters of the U.S.
Above excerpts taken from the U.S. Environmental Protection Agency
How can adaptive management and monitoring be incorporated into controlling and/or eradicating non-native invasive plants?
Baseline conditions of the project area should be documented before any work is done in order to compare post-project and long-term site conditions to pre-project conditions. Criteria that could be tracked and periodically compared to baseline conditions to monitor project effectiveness and success and feed into an adaptive management process include: continued absence of eradicated invasive plant species and natural recruitment in the eradication areas by native riparian plant species (to be determined through photo documentation and riparian plant monitoring), and increased presence of native riparian vegetation (to be determined by vegetation surveys).
Periodic or event-driven (following a major disturbance) monitoring of the project area will ensure that any project maintenance needs are noted and corrected in a timely manner. Maintenance requirements could potentially include reseeding the area, and the removal/treatment of resprouts and/or new invasive species that may encroach on the study site.