Watersheds
>
Climate Change
Climate Change Planning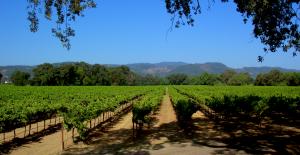 To reach the 2020 reduction target, the cities and the County of Napa will need to reduce GHG emissions countywide by 30 percent by 2020.
To achieve that 2020 target, Napa County must aggressively pursue reduction measures in every sector. For example, the transportation sector produces the greatest amount of Napa County's GHG emissions-approximately 55 percent. Ideally, emissions reduction strategies would yield the greatest results in this area. However, transportation is the sector least amenable to reduction actions. Thus to the extent that reductions are proportionally less in transportation due to the lackof available measures, short term high­ impact opportunities in the electricity and natural gas sector must be pursued to compensate for transportation's shortfall, despite the fact that only about 36 percent of GHG emissions in Napa County come from electricity/natural gas. In the long term, reductions from all sectors will have to approach 80 percent by 2050 to meet the scientific imperative.
The DRAFT Napa County Climate Action Framework details six goals with 53 high‐priority countywide actions intended to achieve the emissions goals. Staff from all Napa cities/towns and County participated in the drafting of the 53 countywide actions. In addition, when appropriate, each jurisdiction provided additional local specificity regarding the development or implementation of a countywide action.
The Climate Action Framework has six major goals:
Expand Transportation and Mobility Options:
Shift transportation from fossil fuel vehicles to transit, walking, bicycling, and renewably powered vehicles and invest in Napa County jobs.
Improve Buildings and Energy Efficiencies:
Invest in widespread energy and water efficiency to reduce demand; invest in Napa County renewable energy sources.
Reduce Consumption and Solid Waste:
Significantly reduce the amount of waste produced in cities and the County.
Conserve Agriculture, Natural Resources, and Urban Forests:
Protect our natural resources and farmland, and sequester carbon.
Increase Community Engagement:
Market programs and conduct community outreach to increase participation in GHG reduction efforts.
Improve Local Government Operations:
Lead by example by implementing policies and programs in jurisdiction operations and facilities.
The actions described in this Framework are not intended to be an exhaustive list of actions that the cities and County of Napa will undertake to achieve the 2020 objectives; they may do much more. However, these actions identified are the highest priority countywide actions. The Climate Action Framework includes goals for 2020, objectives and the actions needed to achieve these objectives. When implemented, these actions will enable the County and cities to meet the established emissions target.
Napa River near Kennedy Park