Education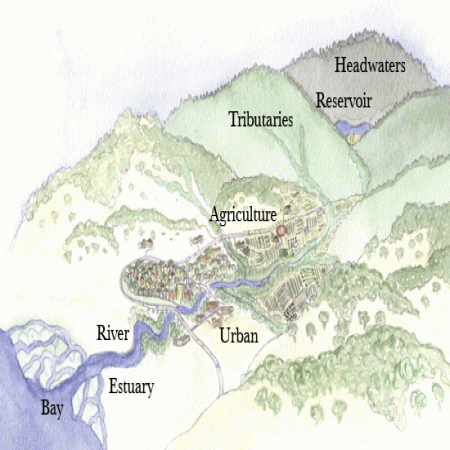 Watersheds are always changing. Educating watershed residents about their natural resources will help to ensure that watershed health changes for the better in the future. Through the collaborative efforts of watershed groups – consisting of the people living and working within each watershed – major improvements in water quality, fisheries enhancement, wildlife habitat, and overall quality of life have been accomplished.
In Napa County, many watershed groups are eager to educate the community about their watersheds. Listed below are specific resources for educating children about our dynamic environment.
Watercolor by Jenny MacIlvaine
Learn more
Local resources
Environmental Education Coalition of Napa County - This group publishes a free guide (available for download) to all agencies and organizations that offer environmental education programs to school children in Napa County. Many organizations offer in-class lessons, offer field trips, or support curriculum in other ways.
Napa County Office of Education - Ed1stop is a web portal that acts as a gateway to a variety of education resources on the web.
LandSmart for Kids - This program pairs students with watershed field experiences. Students participate in restoration projects and watershed science over the course of 1, 3, or 5 field trips during the school year.
General watershed education resources
California Regional Environmental Education Committee (CREEC) - Our mission is to link all educators to Environmental Education activities and resources throughout California.
North American Association for Environmental Education
EE-Link, Environmental Education on the Internet, is a resource designed to support "students, teachers and professionals that support K-12 environmental education, such as media specialists, inservice providers, nature center staff and curriculum developers."
Environmental Resources Center
The Environmental Resources Center (ERC) promotes informed decision making on natural resource issues in Wisconsin and nationwide by working in partnership with individuals, community leaders, and resource professionals to develop and deliver research-based educational programs and materials.
Wet in the City - Water Education for Teachers
An urban environmental education program of the Council for Environmental Education (CEE) that focuses on water resources.
Project WET (Water Education for Teachers)
Non-profit watershed educator and publisher for educators and young people ages 5-18.
Amphibian Declines Teaching Module
The Network of Conservation Educatiors & Practitioners (NCEP) provides an outreach teaching module reviewing all aspects of the global crisis of amphibian declines and extinctions. Module includes a thoroughly annotated and illustrated PowerPoint presentation, an overview Synthesis monograph with extensive literature citations, as well as proposed in-class teaching exercises and solutions. The module is aimed toward university-level students (e.g., Conservation Biology, or Herpetology, courses) but it is open-format so it can be edited and customized to any particular need or audience.