Project Database
About the Database
The database collects natural resource projects in Napa County. Projects are aligned with the WICC mission and at least one of the following Napa County IRWMP goals, as explained in the Napa County IRWM Planning Framework.
Ensure Napa County has an adequate and reliable supply of water for beneficial uses.
Effectively plan and implement projects that preserve the high biodiversity supported by Napa County watersheds.
Improve flood protection and stormwater quality.
Protect and enhance the quality of life for residents and visitors of Napa County.
Provide outreach, education and a forum for information exchange to all interested parties.
Benefits of the Database
Coordination – making connections between projects to promote resource sharing
Recognition – sharing what is being done to improve watershed health and what is still needed
Funding – providing linkages to partners and opportunities; offering eligibility for inclusion in local and region-wide proposals
Planning – partaking in region- and county-wide water resource planning, including Integrated Regional Water Management Planning (IRWMP)
Contributing to the Database - Add your project [LINK REMOVED - PROJECT DB NEEDS SECURITY PATCHES AND UPDATING]
Share projects with the public. Publish your project only when ready to make your project viewable to the public.
Develop projects. The database is a scratch-pad for proposals; update details as needed and share documents and text with collaborators.
Learn About Projects
 View published projects [LINK REMOVED - PROJECT DB NEEDS SECURITY PATCHES AND UPDATING]

in the Database using a map or table.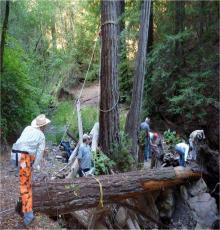 Wing Canyon Fish Barrier Removal