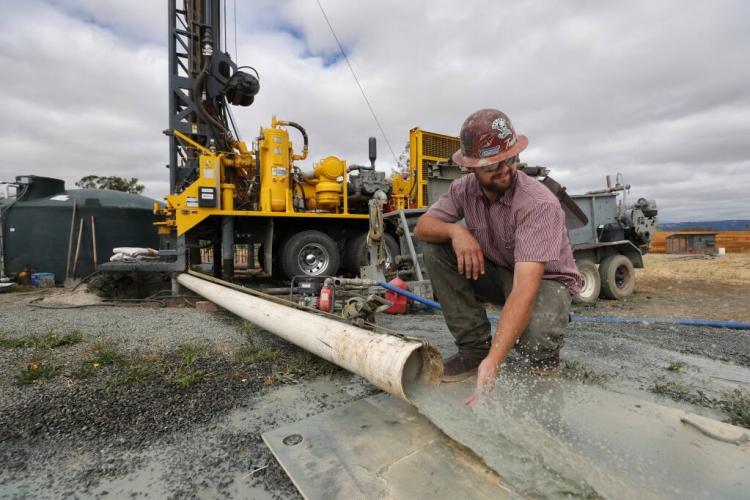 Weeks Drilling & Pump Co. operator foreman Nick Riojas checks water flowing from a new well on a vineyard property near Sonoma on Tuesday, June 22, 2021. (Christopher Chung/ The Press Democrat)
Sonoma County backs well water regulations, advancing new era of groundwater oversight
Nov 16, 2021 at 5:30pm
Hailed as a complex and historic step, Sonoma County supervisors on Tuesday unanimously endorsed plans to guide use and governance of groundwater relied on by rural residents, farmers and cities.
The plans, required by a 2014 state law crafted amid California's past drought, will eventually include well water use fees in three basins underlying the Santa Rosa Plain and Sonoma and Petaluma valleys.
The plans, four years in the works and due for submission to the state Department of Water Resources in January, are "extraordinarily complex, politically charged and technically nuanced," board Chair Lynda Hopkins said.
"This is a very big deal," she said, calling it the "first time ever the state of California regulated groundwater," a resource that has been handled like the "Wild West for all this time."
The vote came with just a few remarks by supervisors and no public comments or questions. Official approval of the plans is still to come from the Groundwater Sustainability Agencies in charge of each basin, a step set for December.
"I wasn't sure that we'd ever get to this point, but we did," Supervisor Susan Gorin said.
The plans are blueprints for use and governance over the next three decades. One critical part of their enforcement — the fees that will be charged to well water users — has not been decided.
"Eventually we will have to set those fees," said Supervisor David Rabbitt, the board's senior incumbent. The fee structure needs to credit areas "that are putting more water down into the ground," he said.
A county report said the state law "mandated that groundwater resources be sustainably managed to ensure that water will be available today and into the future for all beneficial users, including flora and fauna, municipal and domestic, agricultural, and business users."
Continue reading the article from the Press Democrat here.