Integrated Regional Water Management Planning in Napa County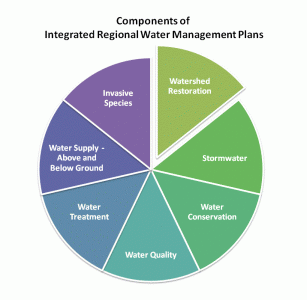 Water in Napa County supports diverse ecology, thriving agriculture, and picturesque open spaces. It also supports a wide variety of communities, commerce, employment and career opportunities. With more than 130,000 water-users and over two dozen agencies overseeing water resources, a focused Integrated Regional Water Management Plan (IRWMP) is helpful to ensure that the community and its ecology continue to flourish by sharing and managing water responsibly and strategically.
By integrating water management plans and related projects, Napa County will ensure that everyone has a say in how we efficiently steward water resources. Management plans are being developed regionally in accordance to major watersheds established by the state, and will work to meet urban, agricultural, industrial, and ecological needs for water resources.
All water-users and stakeholders are invited to become involved in the IRWMP process. For detailed information on what IRWM is or how to participate please follow the links below or in the side-bar links under Related Content Links.
Learn More
What is IRWMP?
A plan that integrates all aspects of water supply including elements of water quality, water supply, water treatment, and flood control.
A collaborative tool that works to maintain, protect, and promote sustainable and beneficial water resources management plans and projects at all scales by utilizing various water resource management tools relating to water supply.
A planning process to address water issues from differing perspectives, and increase beneficial working relationships across jurisdictions/boundaries by requiring participants to create and sustain working relationships with all stakeholders.
Which IRWM plans encompass watersheds in Napa County?
Napa River and Suisun Creek watersheds are part of the North Bay subregion of the Bay Area IRWMP (region map)
The plan was adopted in 2007 and is currently being updated
Plan update is guided by a Coordinating Committee composed of Bay Area water, wastewater, flood protection, and ecosystem restoraion agencies, as well as resources and regulatory agencies and NGOs
What kinds of projects does IRWM encompass?
IRWM plans and projects will integrate all aspects of water management, including water supply (surface/groundwater), water quality, water treatment and reuse, flood control/management and environmental benefits.
A complete list of IRWM project types can be found in the Integrated Regional Water Management Framework from the County of Napa.
How will IRWM support Napa's projects?
By integrating or combining effective water management plans and projects, local entities and stakeholders will substantially increase their chances for funding for vital water projects, and allow for the selection and implementation of high caliber Napa County projects that yield multiple benefits for the community and environment.
By taking part in local and regional water management planning, Napa County will increase its collaboration, coordination, and communication with a wide variety of stakeholders.
How can I participate in IRWM planning?
Be informed. The WICC website is the main outreach tool for local IRWM planning in Napa County. Be sure you are signed up on the WICC.
Submit projects to the WICC project database. The project database is a tool by which project leaders may coordinate and integrate with others in the County.
How can I submit my project to be considered for inclusion in the IRWM plan?
Stakeholders in the Napa River and Suisun Creek watersheds may submit projects for inclusion in the Updated Bay Area IRWM Plan.

Proposed projects can either be new projects, or can be updated versions of projects already in the Plan.
A complete new or updated project description is required to be eligible for inclusion in the 2013 Bay Area Integrated Regional Water Management Plan.

Only projects in the Plan will be eligible for next round of IRWMP funding from California Department of Water Resources (RFP expected in fall 2012).
The deadline for submitting a new project or updating an existing project is September 1, 2012. This date has been selected to meet the deadline required by the Department of Water Resources for the Plan update, to allow adequate time to review, score and prioritize projects included in the Plan, and to consider projects for further analysis and inclusion in a proposal for implementation grant funding, expected to be due to DWR by March, 2013.
Water resource projects that serve disadvantaged communities (DACs) will be prioritized in the updated Plan. Typically, grant cost shares are waived and eligibility requiredment are broadened for DAC serving projects. Learn more here.
Stakeholders in the Putah Creek watershed may submit projects for inclusion in the Westside Sacramento IRWM Plan. Only projects in the Plan will be eligible for next round of IRWMP funding from California Department of Water Resources.